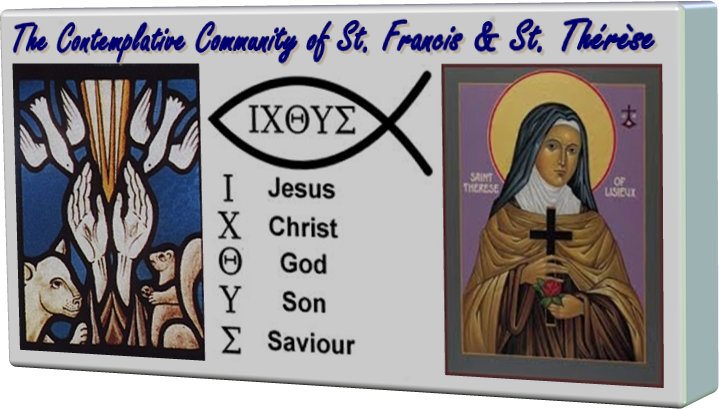 We are an Ecumenical Community of Contemporary Christians Dedicated to a Life of Prayer
Made up of many denominations- We are Liberal & Conservative, Male & Female, Ordained & Lay, Catholic & Protestant-Our Unity lies in our Devotion to God

Home Main Community Aspirations Prayer Life Contact Documents Links About Us Facebook
Frequently Asked Questions About The Divine Office Prayers

Saturday's Prayers --11/11
Sunday's Prayers 11/12
Monday's Prayers -11/13
Tuesday's Prayers -11/14
Wednesday's Prayers -11/15
Thursday's Prayers -11/16
Friday's Prayers --11/17
Saturday's Prayers -11/18
Sunday's Prayers 11/19
Monday's Prayers -11/20
Tuesday's Prayers -11/21
Wednesday's Prayers -11/22
Thursday's Prayers -11/23
Friday's Prayers --11/24
Saturday's Prayers -11/25

This entire website- actually, this entire ministry- is all about encouraging prayer. The Divine Office isn't just a prayer- it's a meditation and an
aid to Holiness. Jesus chanted and sang the Psalms. St. Francis and St. Thérèse did as well. The Liturgy of the Hours, as it's also called, is
main prayer of almost every monastery and convent and has been for more than fifteen hundred years. We include all 8 prayers of the Office,
7 days a week and encourage you to pray as often as your time and circumstances allow.
We also want to encourage singing/chanting the psalms. Here is the link to all 150 psalms sung
https://www.youtube.com/watch?v=WbvjHQTf82k&t=32319s
By clicking on the link above and going down the page- just a little, there's a "show more" link which will allow you to play the exact psalm of the prayer with one click.
Here's a direct link to the words of each psalm as it's sung from the 1928 Book of Common Prayer:
1-50
http://justus.anglican.org/resources/bcp/1928/Psalms1.htm
51-100
http://justus.anglican.org/resources/bcp/1928/Psalms2.htm
101-150
http://justus.anglican.org/resources/bcp/1928/Psalms3.htm